Empire Engineering provided technical support services to Innogy during the transport and installation phase of the Triton Knoll offshore wind farm. 
The analysis and verification work was undertaken under challenging schedule pressures. The fast turnaround of services prevented Innogy incurring significant unwanted costs penalties due to the vessel idling in port pending structural verification of the MP's and TP's. 
A range of technical studies were completed to verify the structural integrity of the monopiles and transition pieces on the DEME Innovation vessel. 
Empire Engineering were able to provide assurance to Innogy regarding the integrity of the structure and give confidence that the T&I phase could continue without risk of damage to assets.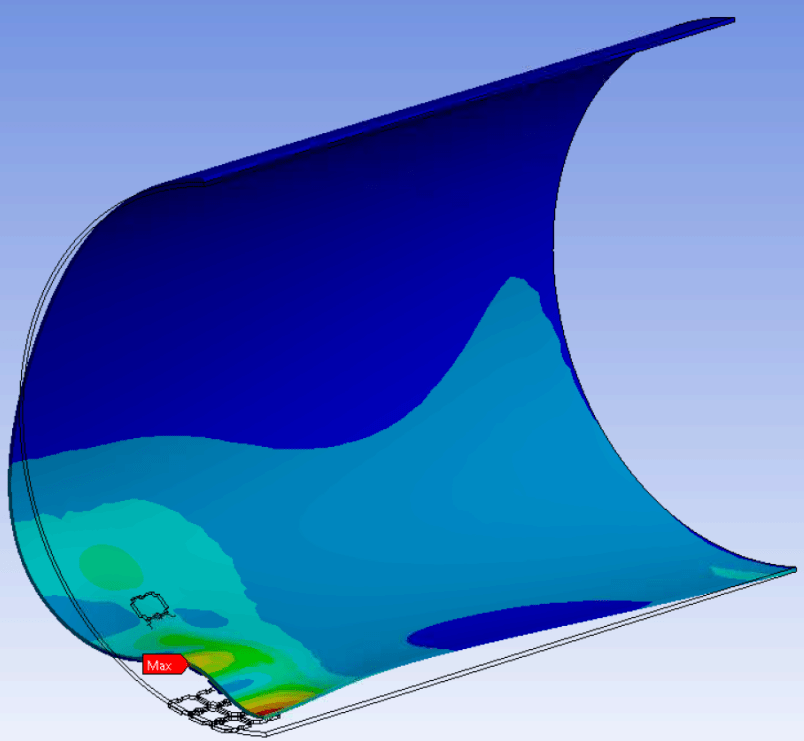 Empire Engineering undertook three key studies to verify the primary structural elements during transportation and installation as follows: 
Structural verification of the MP's in the vessel cradle arrangement and design

 during transportation

,

 and when upending during installation.

 

Verification

 of the friction capacity of the 

cradles under vessel motions when transporting MP's

 

Verification of the TP's post modification to the sea fastening arrangement.

 
Due to the complexity of the structural analysis, finite element modelling was used in all studies. Modelling and analysis were undertaken by Empire Engineering's highly skilled and experienced team who were able to develop and verify FEA models as shown in the image below. 
Model symmetry was used to significantly improve the model run times, allowing Empire Engineering to provide results to the client within the constrained time frames. 
Empire Engineering also undertook a review of the transportation contractor's engineering documentation as part of the project scope to provide an independent check for the Client. 
Key benefits and success factors
Empire Engineering were able to quickly demonstrate that there was no risk of structural failure or loss of friction capacity during the transportation and installation phases. These assurances allowed the Client to de-risk areas of the project as a critical time to prevent heavy financial penalties.   
The project was completed successfully.  All monopiles and transition pieces were installed without any damage of loss of structural integrity.  
Empire Engineering are proud to have supported Innogy during a challenging phase of the Triton Knoll offshore wind farm.
We provided assurances to de-risk critical project areas.
All monopiles and transition pieces were successfully installed.
Empire Engineering made a significant contribution to overall project success.