The importance of bringing new talent to offshore wind is a well known priority.
Here at Empire Engineering, we've made a concerted effort to play our part. As part of our hiring strategy we have welcomed both senior and junior engineers to the team in recent months.
This year, we've also had the opportunity to bring onboard a placement engineer for the first time. Océane Daoud has been with the Empire team based in Bristol for 12 months. It is fair to say Océane has made a significant positive contribution and has had a big impact on the team. We are sad to see her go.
Océane took some time to speak with us about her life as a placement engineer at Empire before she moves onto the next stage of her career.
What did you think it would be like working at Empire?

Initially I had no preconceived ideas. I wanted to come with a completely blank slate about what it would be like. I have no experience of working in an office or work culture and was initially apprehensive that the environment would be very rigid and I would feel constrained. Being a student on placement I thought I would spend a lot of my time in training or carrying out support-based tasks with not much opportunity to use my own initiative.
What kind of work did you come into contact with?

At the very beginning I started with training and familiarisation of the tools Empire uses. I was also given opportunities to get involved with tasks such as reproduce models in Solidworks and imitate workings from past projects in order to get familiar with all the software in offshore foundation specific applications.
I was not familiar with offshore wind before I started with Empire. Therefore this opportunity gave me a lot of information, resources, background and knowledge of all factors that come into an offshore wind project.
The first project work I carried out was on FATHOM, mostly doing research into the codes and standards. This gave me great insight into the project work Empire carries out alongside the opportunity to learn whilst doing it. I like to work by doing: training and theory work wouldn't have given me in-depth insight into the industry and the company so it was a really great way of working for me.
I wasn't given menial tasks. Instead the team put me straight into real work and projects, giving me the opportunity to prove myself while developing my skills at the same time! I also learnt a lot of soft skills such as time management and communication.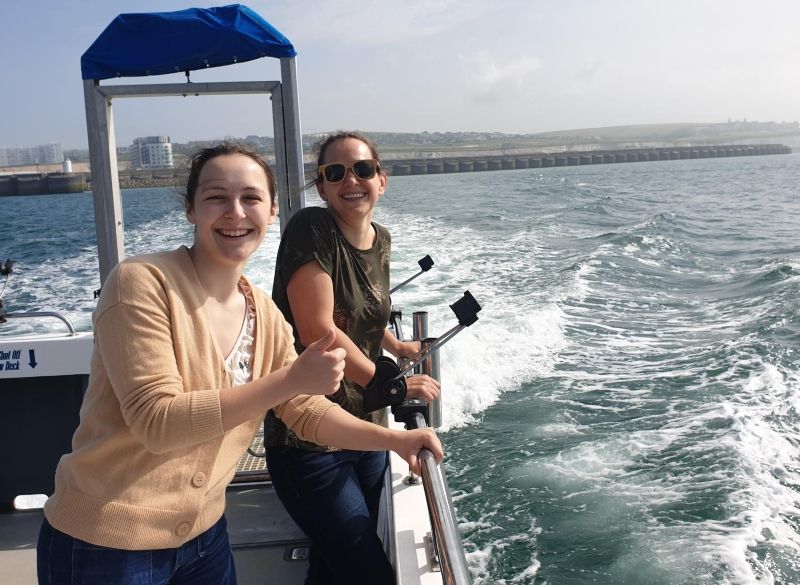 What is it like being part of the team?

I felt the whole team really invested time into me – everything was gradual and I could build my confidence and understanding.
I was given support from everyone at Empire, from project managers up to the director. Everyone is willing to help each other out. For example, if project team members need help with analysis or terminology then a call would be set up to run through explanations and offer assistance. The ethos at Empire is to share skills for the benefit of the whole team and clients.
It is very inspiring to see everyone from directors to interns interacting and collaborating. It doesn't feel like you are holding people back or draining time or resources.
When I first started I was working on support and analysis tasks. Early into my time at Empire however I started on T&I analysis which was a real client project, so I joined in with the team and was there to help out and make a real difference.
What else were you involved in?

Whilst I was at Empire Engineering I was involved in Flipchart Friday, creating a technical guide to share my skills within the industry. 
I was also doing a lot of work on T&I analysis to develop my skills and improve myself in that field. I began to take a bigger role in the projects: to take more initiative and have more autonomy and responsibility.
I was able to directly communicate with clients, which is a skill I really wanted to develop. All this helped me gain a lot of confidence in myself.
I also went to the team day in Brighton. This was a fabulous opportunity to put all our work into perspective. This is what we do: an end result with a real and tangible application in the world. It was a really impressive trip, but also the opportunity to come together in a really nice way to get along and have a lot of fun.
What are some of the challenges you faced?

There was a lot of challenging technical work. It was a lot to take in with a high volume of work coming in.
As I was working on multiple projects simultaneously I was also learning to manage myself and my time. One of the most important things I learnt was knowing what I can and can't do, and where I needed to ask for help.
It was an opportunity to self-reflect and ask for more support where needed, whilst also being able to acknowledge if a task wasn't suited to my skills.
Would you recommend Empire Engineering to others?

Yes, I would absolutely recommend Empire Engineering to others, especially for anyone starting out in offshore wind. It's a small and niche field, so if you are transferring into the industry or going into the working world it is a very good place to start. I feel this way because of the support and the opportunities to learn quickly, while feeling useful and carrying out meaningful work.
What is next?

I am going back to finish my Masters in Mechanical Engineering at Bristol University. It's not specific to offshore wind but I find the field really interesting and am hoping to explore it more. I would not be able to give time or dedication to a field I don't believe in, so it would be exciting to be part of the offshore wind growth.
Hopefully I will see Empire again in the future.
"It has been an absolute pleasure working with Oce over the past year. Hopefully, your time at Empire has been both enjoyable and helped grow your knowledge and experience. We've enjoyed having you as part of the team and you have made significant contributions during your time here. Thank you. The Bristol office will be poorer without you!" 
Karl Davis, Managing Director Empire Engineering.
Thank you Océane from all the team at Empire Engineering. You have been an immensely respected member of the team and we wish you the very best with your studies. Here's to a prosperous future in offshore wind!
Empire specialists can effectively and efficiently assist with your offshore wind project. To find out more, please get in touch with the team at Empire Engineering.