By Karl Davis.
This October we ran the fourth of our 'Tech sessions' webinars. 
For this session we aimed to generate some real debate under the title of Developers vs Designers. We decided to get both a developer and a designer around the table for some healthy debate. Helping to referee was our very own Nick Howard who has worn both hats throughout his illustrious career.
I'd like to take the opportunity to say thank you to both Carl Winkle from Ramboll and Eric Degand from Parkwind for taking part and offering up their expert views. There was a lot to discuss and we may well have designers vs developers round two in the future.
We have the whole session here for you to view on demand. We are also looking to do more sessions soon. Follow Empire Engineering on LinkedIn to keep up to date with all our latest news.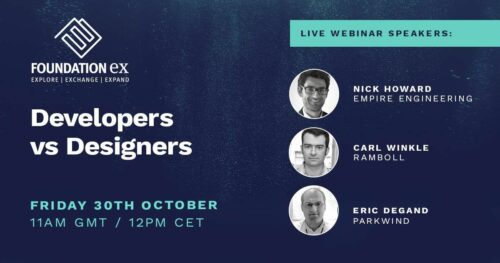 Talk with a specialist
We've been a part of some of the worlds most exciting and
complicated projects in offshore wind.
If you need more eyes, brains and hands, we're ready to help.