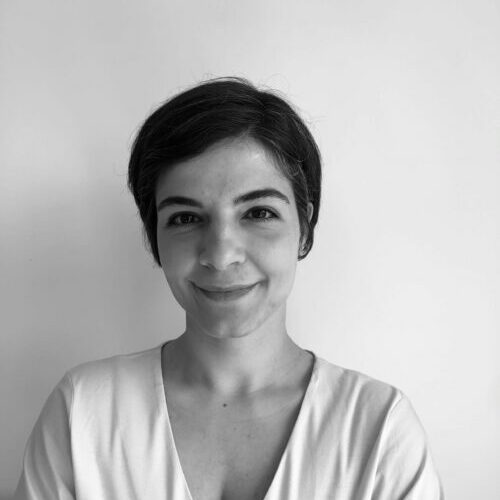 Lead Fathom Developer and Structural Engineer
Eleni is a structural engineer with expertise in numerical modelling and programming.
About Eleni Minga
Eleni has a highly technical background. She has developed her problem-solving skills working in different areas of research, including soil-structure interaction of offshore wind turbine foundations. Eleni is enthusiastic about new challenges and believes in interdisciplinary approaches for the solution of complex problems. 
Education and early career 
Eleni studied Civil and Environmental engineering in Thessaloniki, Greece, specialising in structural design. She then moved to Paris to pursue a Master degree focusing on specialised aspects of numerical modelling andstructural analysis under dynamic excitations. Here, she had to face the double challenge of a degree in a third language (french) and an engineering approach based on applied mathematics.
Eleni ended up fascinated by the intersection between maths and engineering and went on to pursue a PhD in computational structural mechanics at Imperial College London where she gained expertise in Finite Element modelling of structures and soil-structure interaction under cyclic loading conditions.
Professional Experience 
Eleni has been involved in the conception and development of software tools for engineering modelling and design, automation of processes and machine learning applications.
After completing her PhD, Eleni worked at the University of Oxford on the design of monopile foundations of offshore wind turbines. She was involved in the development of automated procedures for the calibration of monopile design models, gaining insight into offshore design drivers and advanced geotechnical modelling aspects.
At that stage, she started delving into the field of machine learning which lead her to a new role as a research data scientist at Imperial College London. She worked in the development of advanced modelling tools and software for data analysis and visualisation, handling large and complex datasets.
Why offshore wind? 
"Offshore wind has the potential to lead the transition to green energy at a global scale. The entire process of offshore wind energy production is being constantly optimised to reach carbon neutral goals. It is exciting and rewarding to contribute to this process by developing innovative practises for engineering design. The technical challenges and the fast developments in this young sector only make the work more interesting and motivating." 
Specialist Areas
Finite Element modelling, Python coding, structural analysis, soil-structure
interaction, data science, machine learning, cycling and acrobatics.
This article is composed from Eleni Minga's presentationat the 2022 Foundation Ex conference.In the Foundation Ex presentation, I discussed the use of statistical approaches to assess the deterministic values that we use for design parameters. The session focused on...