By Structural Engineer Ian Tran.
As the offshore wind industry matures and the plans to achieve carbon neutral targets start to materialize, the EU is poised to witness a surge in projects transitioning into the fabrication, construction, and subsequent operations and maintenance (O&M) phases.
However, it becomes increasingly clear that the current supply of skills in the industry falls short of meeting the growing demand.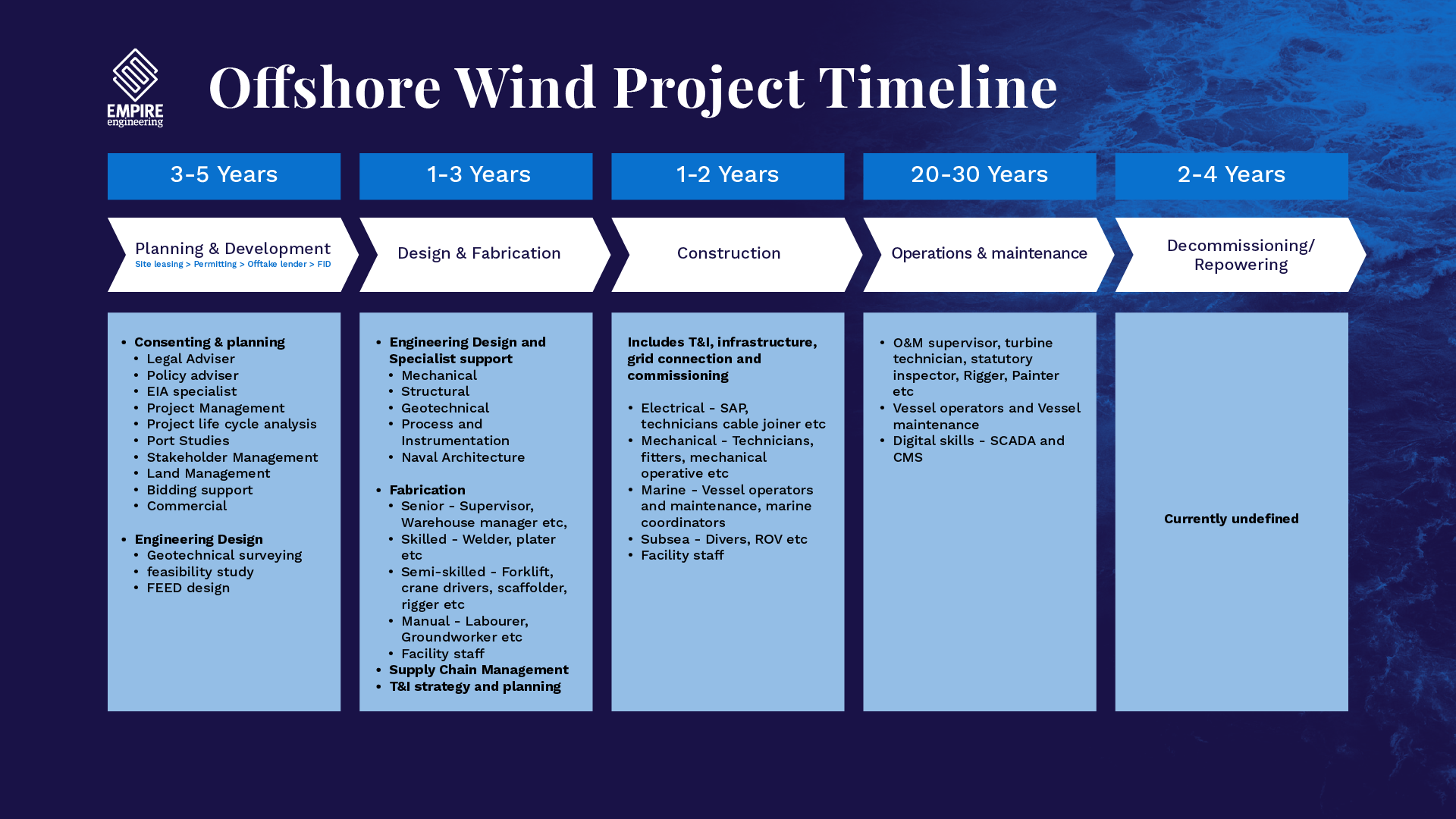 Example Offshore Wind Project Timeline and examples of general skills requirements in each project stage
Future Skills Gap

The Offshore Wind Industry Council (OWIC) published a report in June 2023 identifying the forecasted workforce by 2030 and the current and future skills gaps in the UK. An estimated 72,000 new jobs will be created by 2030, including direct and indirect jobs (supply chain, supporting roles etc.), in order to deliver the current project pipeline.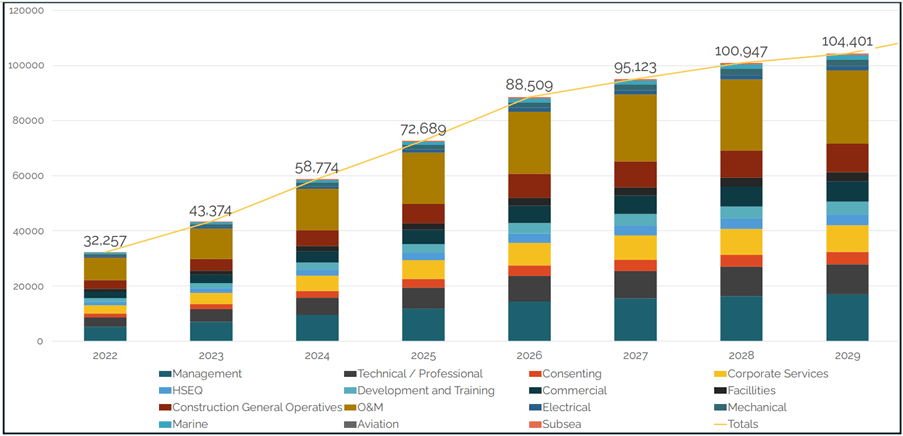 Breakdown of number of UK offshore wind jobs by Job Role (OWIC, 2023).
Future Projections 

The study found that O&M jobs consistently make up the largest share of new jobs each year, followed by Management then Technical/Professional roles.
A similar study was performed by Energy & Utility Skills and Cambridge Econometrics in 2018, which estimated 18,500 jobs by 2022. Despite the true growth of the industry being vastly underestimated, nevertheless, both studies predict O&M and Construction & Installation to have the largest percentage growth in number of employees between 2022-2027.
In both studies, it was also observed that there would a rapid increase in jobs through to 2026 before growth stagnates after 2027. This is likely due to the cyclical nature of the project phases, and that only current project pipeline data is reflected in the graphs.
These studies fall in line with conclusions gathered from Empire Engineering's EU current project pipeline data, processed from 4C Offshore, as shown below.
•  In 2027, the number of projects drops and growth declines
•  The increase in number of consenting roles begins declining after 2024, echoing the number of projects reaching FID.
•  The progression of the number of projects reaching FID, construction and full commissioning stages mirror the growth of jobs in each respective sector in the studies.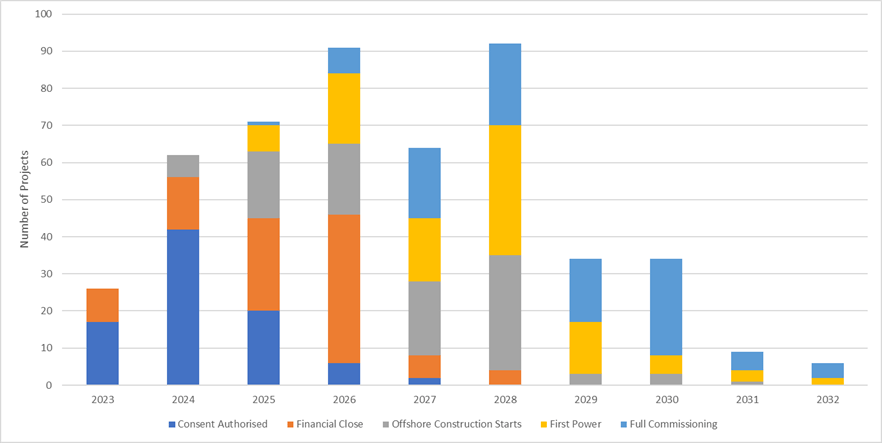 Current EU Project Pipeline, taken from 4C Offshore Database with EE informed predictions.
Further to this, it is estimated that by 2030, approximately 600 offshore wind turbines will need to undergo decommissioning or repowering. Given the absence of standardized legislation to outline best practices, this sector will demand increasing attention and create a growing demand for jobs.
Specific areas and skills
Electrical skills

High-level electrical technical and engineering skills are currently in high demand and are expected to remain so. Of particular significance are engineers and technicians with experience in the design, manufacturing and installation of turbine components, high-voltage cables, and substations. This demand is further exacerbated by the ongoing upgrade the power network and the introduction of battery storage sites.
Both onshore and offshore maintenance will require Senior Authorized Persons, to oversee the safety of standard and specialized high-voltage tasks. In O&M and T&I, high-voltage technicians with certifications enabling them to undertake tasks like lifting, climbing, and rope access training, coupled with a robust electrical, control, and instrumentation skillset, will be of exceptional value.
Digital skills

There will be significant demand for skills in high-level digital specializations, including data analytics, artificial intelligence, robotics, software development, and machine learning.
In particular, skills to analyse and manage Supervisory Control and Data Acquisition (SCADA) and Construction Monitoring System (CMS) data for operational monitoring. This enables owners to proactively respond to failures and, where possible, pre-emptively identify potential issues before they occur.
Moreover, digital twins for O&M is an emerging field that holds great potential and value to developers. This will require software development skills for integrating the SCADA and CMS systems, as well as to design the tools necessary for harnessing the capabilities of digital twins.
Consenting skills

The project's planning phase encompasses a series of crucial steps, including environmental and geotechnical surveys for site identification and permitting, site auction and leasing, offtake tendering, and ultimately reaching the final investment decision (FID).
During this phase, a diverse set of skills in consenting and planning becomes highly valuable. These include expertise in project management, legal advisory, policy advisory, environmental impact assessments (EIA), project life cycle analysis, port studies, stakeholder management, land management, and bidding support.
In particular, project managers with the capacity to manage significant sized projects involving multiple contractors will be highly sought after. Projects across the EU have specific eligibility criteria demanding this, such as project managers having experience with successfully managing at least 300MW for projects in Belgium and 150MW for Lithuania.
Floating skills

According to a report from ORE Catapult, in order to reach the UK target of 18.4GW of floating offshore wind by 2040, 31,793 jobs will be created, not limited to jobs within the UK. The report also highlights that similar skills gaps exist in floating wind as in the wider offshore wind industry:
• Consenting – demand for individuals with expertise in environmental and marine knowledge, but competition within the industry and a lack of awareness about this career path pose recruitment challenges for statutory nature conservation bodies and regulators.
• Project Management, with ability to manage major projects.
• Digital skills – particularly valuable in monitoring of FOW systems and optimizing operations and processes.
• Senior Authorized Persons – the current shortage is a cause for concern in the fixed bottom industry and if not addressed will present a critical bottleneck.
• High voltage skills and cable joiners
• Fabrication and welding – FOW anticipated to require large numbers of people in fabrication and welding.
As momentum in the industry builds, Empire is very much on the lookout for creative, curious engineers with a passion for wind energy. Please visit our Vacancies page if you have skills in any of the following:
• Geotechnical Engineering
• Transport and Installation
• Fabrication Management
• Advanced ANSYS/SESAM/Orcaflex
• Offshore Wind Project Engineering
• Primary Steel
• Secondary Steel
Empire specialists can effectively and efficiently assist with your offshore wind project. To find out more, please get in touch with the team at Empire Engineering.