By Aaron Zigeng Du.
Europe and China will become two largest offshore wind markets in the next decade
Despite this trend, it can feel like there is almost no overlap of supply chains between the two markets. To the casual observer over the past decade, China offshore wind seems a very closed market. However, the communication between European and Chinese offshore wind industries has seen significant increase in the last two years.
For example,
China Three Gorges invested in the Moray offshore Wind Project in the UK

China CGN Europe Energy is one of the major shareholders of Groix & Belle-Ile floating wind pilot project in France

China MingYang has established a business and engineering centre in Hamburg, Germany 

SSE Seagreen offshore wind farm's jacket foundations are currently fabricated in China

LOC has provided Marine Warranty Services to support transport and installation operations for the Jieyang II windfarm
Increased collaboration between South East Asia and Europe in offshore wind
Recently, the Empire Engineering team acted as an Owner Engineer in an offshore wind development project in Vietnam. We performed an independent review of detailed design of the monopile foundations. The project developer chose a major Chinese EPC contractor to design, fabricate and install the offshore wind foundations.  Steel materials used for offshore wind structural components in this project were supplied by a Chinese steel company who use the Chinese Steel Standard.  
In order to better understand the differences between the European Standard and Chinese Standard for structural steel used in offshore wind. Empire invited structural steel specialists Qiao Mingliang and Pan Zhongde from NISCO and Zhang Yuwei from DASCO to write a paper to compare the European Standard and Chinese Standard for Structural Steel used in the offshore wind industry.
This paper is now available here for download.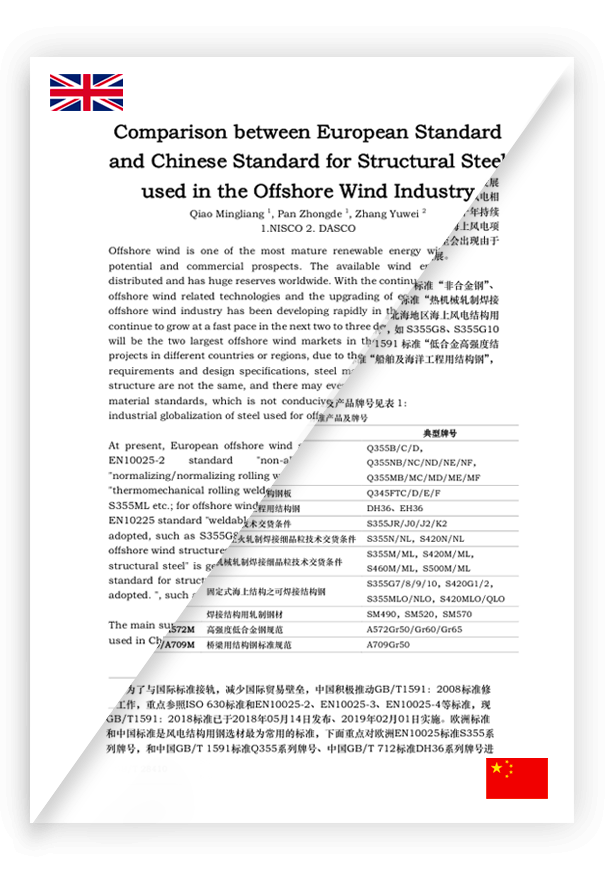 PDF Download of the Comparison between European Standard and Chinese Standard for Structural Steel
A comparison of the European Standard and Chinese Standard for Structural Steel.
Talk with a specialist
If you're considering  procuring steel in different markets,
Empire Engineering can advise how to ensure the correct specifications
are implemented, and to ensure Quality is assured.
About, Nanjing Iron and Steel Group Co., Ltd (NISCO): 
Founded in 1958, NISCO is a large-scale steel enterprise and also one of the 18 key Chinese steel enterprises strategically deployed by the state. In December 1993, NISCO carried out company system reform and Nanjing Iron and Steel Group Co., Ltd. was established, meanwhile, Nanjing Iron and Steel Group was built. In September 2000, NISCO was successfully listed on the Shanghai Stock Exchange. In April 2003, NISCO carried out the "Three Linkage" reform, and jointly established Nanjing Iron and Steel United Co., Ltd. with Shanghai-based Fosun Group. In September 2010, NISCO achieved overall listing. 
At present, NISCO has an annual capacity of 10 million tons of steel, and has won the "Asian Quality Award", "National Quality Award", "National Civilized Unit", "National Customer Satisfaction Enterprise", "The Most Credible Enterprise of China" and others successively, and has been awarded as the "Civilized Unit" both on municipal and provincial level for more than 20 consecutive years. In 2017, NISCO was rated as the top grade "A Plus" (highly competitive) enterprise in the competitiveness rating among 103 steel enterprises. 
About, Nanjing Da Steel New Material Technology Co., Ltd (DASCO): 
Established in 2013, DASCO is a specialised in international and domestic steel and iron trades for low alloy steel plate, bridge beam plate, vessel plate, offshore wind large diameter steel pile, longitudinally submerged arc welded steel pipes. It has the long-term close relations with domestic top steel and iron companies such as NISCO, WUYANG, LAIWU, XINGCHENG. The company has become one of the best steel traders in East China since several years' growth, especially for special steel domains, which becomes the first choice supplier for the clients.   
Empire Engineering are offshore wind foundations specialists. We're experienced at facilitating a rapid resolution of issues, managing risk and maximising the benefits to your project. If you would like assistance with your offshore wind project on schedule, please get in touch.
Aaron Zigeng Du is a Head of London office at Empire Engineering.
#empireenegineering #offshorewind #risk #offshorewindfoundations