By Karl Davis
On Friday September 24th 2021, we'll be kicking off our second season of Tech Sessions webinars.
When we started the Tech Sessions back in 2020, we did so as a reaction to not being able to hold our physical 'Foundation Ex' conference. At the time, we didn't really know how it would go. We are a group of Engineers after all, and the idea of running a series of digital events was far outside our comfort zone.
I'm glad we decided to press on, despite our fears of no-one turning up or making a fool of ourselves while 'live.' The Tech Sessions proved wildly popular, pulling in greater numbers than we ever could have imagined. Crucially, the project succeeded in my goal of providing a platform for genuine industry debate, discussion and sharing of knowledge.
Tech Sessions Season 2
In 2020, over a series of six webinars, we discussed a range of technical topics from floating wind to transition pieces. We brought in a host of industry experts to mix things up and our audience (regularly 250+) got fully involved with a lively chat feed and interactive polls.
We had to do it again. For this autumn, we are running a second season. In true Netflix style, this is a limited run, with three webinars making up 'season two.' The first session, at the end of September is titled 'How to get into Offshore wind.'
The skills gap
 The September session is aimed at both industry veterans and for those who'd like to move across from other areas of engineering and into our thriving industry.
The plan is to host a discussion with a group of engineers in the industry from Empire Engineering, Scottish Power, COP and RWE. I have also invited George Jamieson from Clarehill Associates to give the recruiters point of view. 
We will be discussing how the current demand for skills, and the shortage thereof, may well be the limiting factor when it comes to holding back industry growth over the coming years. 
As with all our Tech Sessions, we won't be hiding away from the hard questions, opinions will be real and sitting on the fence is not the done thing! 
I hope you can join in the audience for what will no doubt be a fun way to spend 30 minutes on a Friday morning. 
Season 2, Episode 1: Friday 24 September 11am GMT
How to get in to Offshore wind?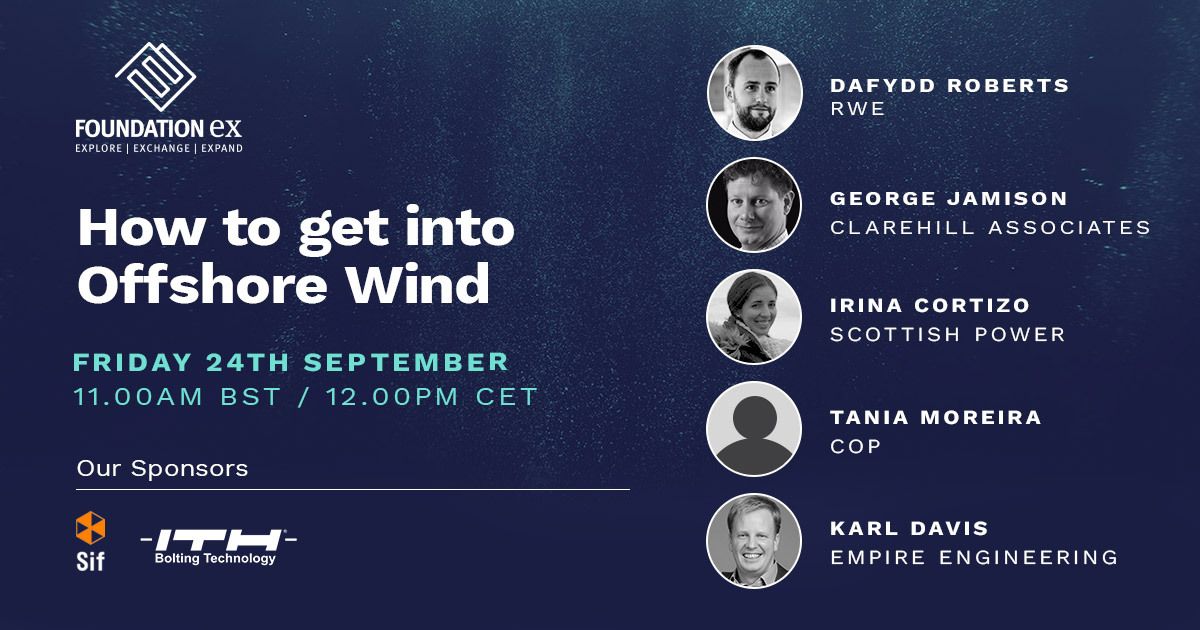 As the industry races to expand, is recruiting causing bottlenecks in projects? Is this impacting the climate crisis? What are the solutions?
In this first session, to kick off our second season, Empire Engineering's Managing Director will be joined by a panel from around the industry discussing how the demand for skills could be what is holding the industry back both now and in the foreseeable future. 
SPEAKERS
Karl Davis (Empire Engineering), Dafydd Roberts (RWE), George Jamieson (Clarehill Associates), Irina Cortizo (Scottish Power), and Tania Moreira (COP).